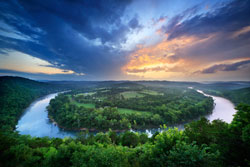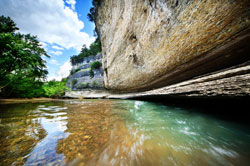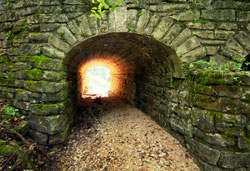 Eureka Springs is The Extraordinary Escape for Outdoor Adventure year round. By day, hike, boat, shoot or bike and by night return in time for a nice dinner and a warm bed.
Boat, Float or Fish - Eureka Springs is surrounded by three lakes and two rivers, perfect for boating, canoeing, rafting, or kayaking. Explore the rock shelters of Table Rock Lake are impressive and full of striped bass. Enjoy pastoral scenes from the Kings River , full of smallmouth bass. TheWhite River, below Beaver Dam, is known for its state record trout. Rediscover America's First National River... The Buffalo River.
Hiking - Discover postage stamp parks, historic natural springs, authentic Victorian architecture hiking the quaint winding streets in downtown Eureka Springs. Enjoy the pristine woodlands and protected birding areas of Lake Leatherwood and Black Bass Lake. Hiking downtown is a great way to get to know the city and scout out your favorite shops andrestaurants for later.

Click Here for Eureka Springs Trails
Larger trails await you at Hobbs State Park and Devil's Den State Park while showy dogwoods announce spring at Withrow Springs State Park. Photograph majestic waterfalls, Bull Elk, Trumpeter Swans or Eagles in the Buffalo River National Park on trails named Lost Valley and Hemmed-in-hollow. Places like Blue Spring Heritage Center and the historic bridge crossing War Eagle Creek are historic sites with a unique sense of place that make this area unforgettable.
Mountain Biking - You don't have to be a hardcore biker to appreciate the legendary and epic mountain trails near Eureka Springs at Lake Leatherwood Park. Bikers and spectators come from all over for area sporting events like the Fat Tire Festival and The Eurekan Multi-Sports Festival. If you don't think you can stand the competition, Pea Ridge National Military Park offers a level bike path through American history with stories of the Civil War and the Historic Trail of Tears.
Caving - Lake Leatherwood in Eureka Springs is a great place to hike or bike. Arkansas is home to nearly 2,000 documented caves but most are located on private property. Eureka Springs is centrally ideally located near Arkansas caves that are open to the public. Onyx Cave is the easiest cave to explore and Cosmic Cavern holds one of the largest underground lakes. Mystic Caverns and War Eagle Cavern also close by.
It is a Natural to explore the outdoors from Eureka Springs, your source for fine restaurants, cabins, b&b's, hotels and resorts.