Outdoors - Lake Leatherwood Park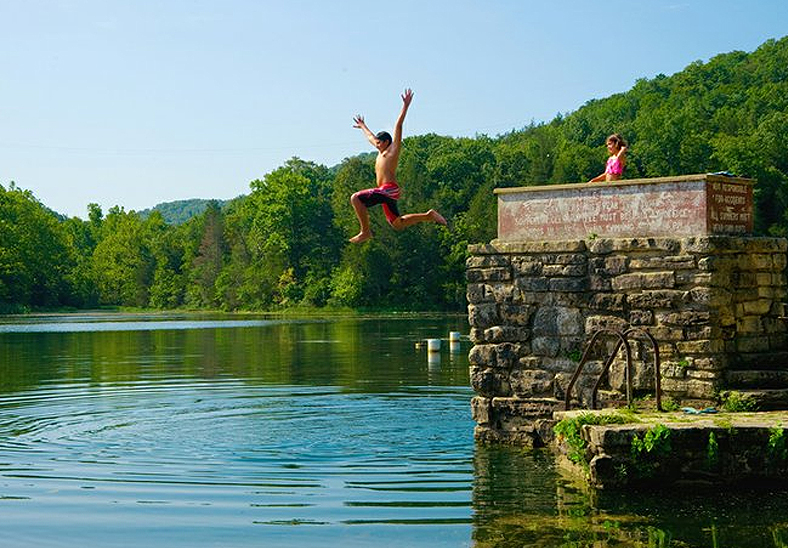 Address: 1303 CR 204, Hwy 62 West,, Eureka Springs, AR 0
Location: Countryside

Follow Hwy 62 West out of Eureka Springs about 5 miles. Look for signs
Web Address: eurekaparks.com/parks/lake-leatherwood/
Description:
1600 acres of Ozark Mountain countryside with an 85-acre spring-fed lake...all in a city park!! Hiking, picnicking, walking trails, camping, cabins (March thru November ) and a small marina for boating, canoes and paddle boats. Pets welcome; playground; RV full hookup. The largest hand-laid, limestone dam in the nation impounds a lake 1 1/4 mile long with about 3 miles of shoreline covering 85 acres. Some of the best hiking trails in the area. Open to the public year round.

Services and Prices: CAMPING: Lake Leatherwood Park offers 1600 acres - Lake - 2 miles west of Eureka. Campsites are available adjacent to the lake that are equipped with tables and fire grills; however, primitive camping is allowed elsewhere in the park. All campers must register with the park attendant. FISHING: Fishing from the bank or from boats requires an Arkansas fishing license for those 16 years and older. SWIMMING: The lake has a designated swimming area. A WPA era bathhouse for showering and changing is nearby.

Additional info about Attraction: Canoe Rental, Fishing Boat Rental, Boat Launch, Fishing License, Fishing Area, Bait & Tackle, Boating Area, Hiking Area, Camping Area, Cycling Area.
Owner: City of Eureka Springs
Contact Information
Local Phone:
479-253-8624
E-Mail:
see their website
Comments
There is a small charge for boat rental, cabin rental and all day swimming..
Visit Website
Back to Outdoors