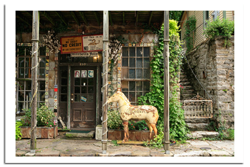 Shop in Downtown Eureka Springs for an extraordinary shopping experience. Downtown really is where the most FUN happens. Winding mountain streets lined with Victorian era storefronts feature ever changing,very creative and colorful shop window displays. Shopping is an experience in Eureka Springs with year round shopping events, contests and live music.

You won't find this much FUN in a shopping mall and you won'find the selection either. Eureka Springs' is a shopping destination carrying unique,one of a kind, and even locally made items. Shopping centers try to recreate what Eureka Springs has… a shopping community. Whether you like to shop for clothes, jewelry, fine art, gourmet food, kitchen supplies or home décor, Eureka Springs has it all.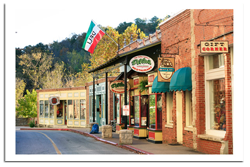 For insider tips on navigating downtown Eureka Springs, Visit the Eureka Springs Downtown Network Blog.
Photos of Eureka Springs by local artist Edward C. Robison III.
Visit Sacred Earth Gallery and see more of Edward's photography.