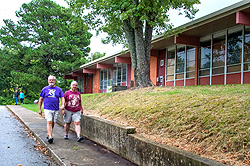 Eureka Springs Parks and Trails
In addition to its many festivals and other attractions, Eureka Springs is a mecca for hiking and mountain biking, connected by its trail system and celebrated in its large city parks.
Click Here for Eureka Springs Trails
The Eureka Springs Trails System provides a comprehensive, well-planned, and supported public network of trails, interconnected by lesser used streets and sidewalks where necessary, offering a safe, peaceful, and less costly alternative to travel from one point in the city to another. These trails intentionally connect a system of parks and spring reservoirs to be enjoyed by residents and visitors alike.
Eureka Springs encourages visitors to GET OUT(side ) and invites you to enjoy: