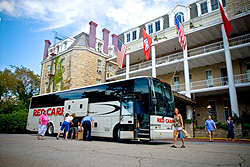 Travelers from across the country find their way to Eureka Springs, Arkansas every year and it is no wonder. Named one of America's Top 6 Getaway Destinations by Orbitz, one of the National Trust for Historic Preservation's Dozen Distinctive Destinations, and a Top 25 Arts Destination, Eureka Springs is an award winning destination.
Motorcoach bus tour operators love Eureka Springs's location, motorcoach friendly accommodations, our national historic district and downtown and attractions. Eureka Springs is home to the Nation's #1 Outdoor Drama, the Great Passion Play.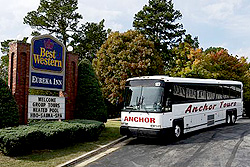 We provide all of the information for you: browse sample itineraries, see upcoming festivals and events, visit our attractions and conscider how close we are to Branson, Crystal Bridges, Pea Ridge and other nearby destinations. Complete a Request for Proposal by Clicking Here.
Eureka Springs is bus friendly. With designated bus routes and parking, a transit system that includes a sophisticated trolley system and twice daily tram tours through the historic district, Eureka Springs tourism professionals are well experienced and friendly. Guide service is also available.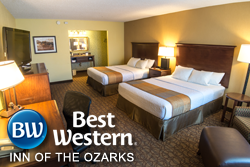 Religious Travel – Home of the Great Passion Play and Thorncrown Chapel, this itinerary is uplifting and inspiring.
Professional Operators – In Eureka Springs our history is significant and our entertainment is extraordinary. A guided tram tour and visit to the major attractions like Turpentine Creek Wildlife Refuge or Blue Spring Heritage Center is a perfect day activity. Combine with an evening at one of Eureka Springs theaters for some fun at night.
Group Tour Leaders – Not everything needs to be programmed. In fact, great lodging and an afternoon to shop and enjoy the sights of downtown Eureka Springs can be the perfect add on to any trip.