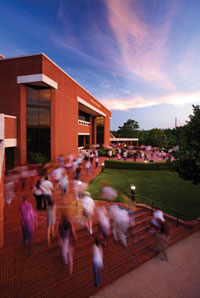 Northwest Arkansas is the signature region for scenic beauty that defines Arkansas as the Natural State. Beaver Lake, the Ozark Mountains, numerous rivers and streams are destinations for outdoor adventure in an area that also finds itself an international leader for business, education, sports, tourism and arts and culture.
Interstate 540, known as the Corridor, connects many Northwest Arkansas communities: Bentonville, Rogers, Springdale and Fayetteville. Those towns have many attractions typically found only in metropolitan areas since the Corridor has half a million residents.
Eureka Springs is a very scenic, 40 mile drive from the Northwest Arkansas metropolitan area along Highway 62 and has been a tourist destination for generations. Recognized as A Top 25 Arts Destination by American Style Magazine and listed on the National Register of Historic Places.
Fayetteville is home of the Razorbacks, the University of Arkansas and the Walton Arts Center. The region fosters entrepreneurial spirit that founded such companies as Walmart and Tyson foods and was foundational in inspiring leaders such a William Fulbright and William Jefferson Clinton.
Today, the arts of our unique and preserved downtowns are alive in top 50 arts destinations such as Eureka Springs with its Thorncrown Chapel or Fayetteville with the Walton Arts Center and Bentonville with the opening of Crystal Bridges Museum of American Art.