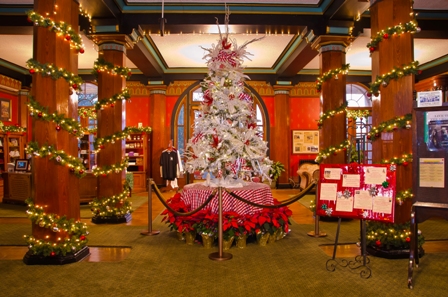 The 2022 Eureka Springs Christmas Festival preserves the Holiday Spirits during these trying times. Families who are searching for a hometown feel this Christmas, where friends and neighbors share the spirit of the season, can find what they're looking for in our historic Victorian Village of Eureka Springs.
Eureka Springs decks the halls with colorful lights ablaze throughout the historic district. Residents share the warmth of a small-town Christmas with visitors through the many holiday events and activities. The city has block after block of shops, boutiques, fine art galleries, and craft emporiums perfect for those one-of-a-kind gifts for your loved ones.
Don't Miss These Great Events!
Drive-Through Light Display at the Great Passion Play


November 24

-

December 31


Great Passion Play Grounds

Experience Christmas from Thanksgiving night through January 1 with a by-donation drive-through light display with lights on from dark through 8:00 PM on Fridays through Sundays on the grounds of The Great Passion Play. For more info visit www.greatpassionplay.org/christmas
---
All Month Long at the Crescent Hotel

Christmastime at The Crescent Hotel has become one of the region's most popular winter holiday traditions. Don't miss great events like the Christmas Tree Forrest, Holly Jolly Painting Party, Breakfast Buffet with Santa Clause and more! Christmas begins on the first week of December and runs until the Ice Rink Opens New Years Week. Learn more at crescent-hotel.com/christmas
Dec 2 – Holiday Lights for Family Photos
Dec 3 – The Lighting of the Trees
Dec 4 – Breakfast Buffet with Santa Clause (10 am – noon )
Dec 9 – Stories, Sleigh Rides & Haunted Tales: Stories & Cookies with Mrs. Clause
Dec 10 – Holly Jolly Painting Party & Cheer
Dec 11 – Green Eggs & Grinch Breakfast (10 – 11 am )
Dec 14 – Stories, Sleigh Rides & Haunted Tales: Haunted Christmas Carol
Dec 16-18 – Gingerbread House Making

Dec 17 – Holly Jolly Painting Party & Cheer
Dec 18 – Teddy Bear Tea
Dec 18 – Candy Cane Hunt & Toy Drive
Dec 21 – Stories, Sleigh Rides & Haunted Tales: Haunted Christmas Carol
Dec 26 – Tentative opening date for Arkansas only real ice skating rink
Dec 23 – Stories, Sleigh Rides & Haunted Tales: Stories & Cookies with Mrs. Clause
Dec 28-30 – Gingerbread House Making
---
Shop Small Saturday
November 26
Let's celebrate SHOP SMALL in Eureka Springs! 100 SWAG BAG giveaway at the Basin Park Hotel! Every bag is a winner! Gift certificates to restaurants, shops, and SEVERAL return trip stays in Eureka! Our community has come together to make this the best SHOP SMALL event EVER! Come early for fun in the park! Refreshments and treats!
---
Christmas parade of Lights
December 2nd at 6pm

The Eureka Springs Christmas Parade of Lights is one of Eureka Springs' most popular night-time parades with floats, walkers, bands and thousands of twinkling christmas lights. This year's theme is "A National Lampoon's Christmas Vacation"!Pick a spot along Spring Street ot catch all of the action. Come early to see the Annual Christmas Tree Lighting ceremonty at Basin Spring Park at 5 pm. The parade is scheduled to start at 6:00pm and run to 7:00pm.
---
Santa in the Park
December 3, 10 & 17th
from 11-1pm
That's right...Ol' Saint Nick returns to Basin Spring Park in the center of Eureka Springs' Downtown Shopping & Entertainment District. Santa will be ready to meet you, your kids, and the entire family, plus take a commemorative photo with you and hear your wish list from 12-2pm.
---
Christmas Tour of Homes
December 3rd
from 2-6pm
For more than 40 years, the Eureka Springs Preservation Society in this Victorian village have invited visitors inside their historic residences to share the joys of the holiday season. The tradition continues Saturday, Dec. 3, 2022, when the Annual Eureka Springs Christmas Tour of Homes takes you on a spectacular journey through time. For more information and tickets, click here.
---
Living Windows
December 10th
from 5-7pm
Our window displays come alive with this annual Eureka Springs tradition! Elves, Santa, and delightful characters come alive for kids and adults to be surprised! The evening is sprinkled with holiday spirit as the magic unfolds one shop after the other. Shop in the Living Christmas Card, stop in for treats at local shops and have dinner all while delighting in the magic that happens in Downtown Eureka Springs.