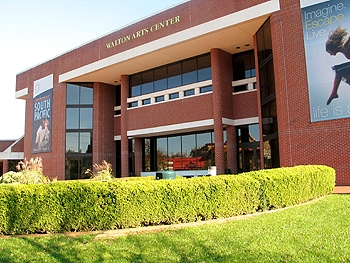 The Walton Arts Center brings great performing artists and entertainers from around the world to Northwest Arkansas, connecting and engaging people through inspiring arts experiences. Art inspired festivals, classical music performances, Broadway shows and more, the Walton Arts Center offers diverse cultural programming for Northwest Arkansas. It's just a short, scenic drive from Eureka Springs, Ar.
See what's happening at the Walton Arts Center and buy show tickets online.
The Joy Pratt Markham Gallery, located inside the Walton Arts Center, features visual art exhibits and temporary displays relating to performing arts programs. Visit the gallery before or after a performance. See what exhibit is being featured in the gallery.
Every year the Walton Arts Center celebrates artists, the natural world and sustainable living with Artosphere, a 2 month long performing and visual arts festival in May & June. Learn more about Artosphere.
The Walton Arts Center produces headlining concerts in Northwest Arkansas' premiere outdoor concert venue, the Arkansas Music Pavilion or AMP. See who's performing in the AMP. The AMP is located at 2536 N. McConnell Ave., Fayetteville, AR 72703.
Walton Arts Center
495 W. Dickson Street, Fayetteville, AR 72701