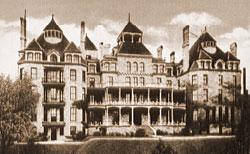 The City of Eureka Springs was founded and named on July 4, 1879. By late 1879, the estimated population of Eureka Springs reached 10,000 people and in 1881, the town was declared a "City of the First Class," the fourth largest city in Arkansas. Today, our history lives on as the entire downtown area is listed on the National Register of Historic Places with National Significance. While we're nowhere near the 4th largest in Arkansas, Eureka is still a "First Class City." (Read more about Eureka Springs History)
Hidden historical points of interest including the 1929 Municipal Auditorium opened by John Phillips Souza, the Eureka Underground, a civil war hospital, famed Abolitionist Carry Nation's Home, houses of ill repute, numerous Bath Houses and the site of Marshall Tilgham's famous capture of the final member of the Dalton gang all may be found in Downtown Eureka Springs and brought to life on one the Main Street program's walking tours.
Eureka Springs also is home to five historic hotels pre-dating 1906, nearly one hundred restored mansions now serving as bed and breakfast lodging and hundreds of other cabins and cottages that range from summer cottages in the 1880 to roadside motor courts of the 1950s. For its preservation, Eureka Springs has been recognized as one of 12 DISTINCTIVE DESTINATIONS by the National Trust for Historic Preservation and is a certified Main Street.
Please join us to explore our expansive city trail system connecting this well-preserved one-of-a-kind destination. Here are some of our favorite historic sites and resources: