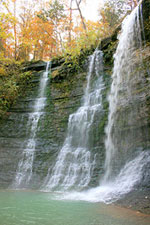 Eureka Springs visitors often boat on Beaver Lake, float the rivers, and explore the outdoors. But when you visit, don't forget to also explore one of the lesser known but most beautiful National Parks: the Buffalo National River, one of only four national rivers in the US and the first one sog designated (on March 1, 1972 ) .
During your visit, see natural formations like Hawksbill Crag, or some of the many waterfalls like Glory Hole and Triple Falls. You might see wildlife like Elk. The Buffalo River is a remote place that is surprisingly easy to explore if you do your research. History is rich in this place. People have found their peace and inspiration near this river for ages. The iconic country church in Boxley Valley,, abandoned cemeteries, and petroglyphs (early and prehistoric rock carvings ) and the Ghost Town Rush are just a few of the great sites available.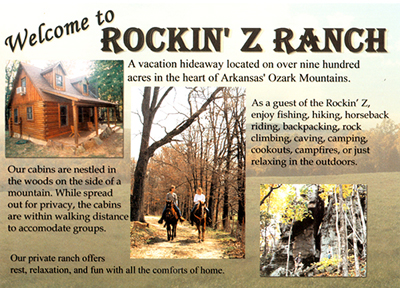 To get the most out of your visit, also consider horseback riding at Rockin' Z Ranch south of Alpena. It will be along the way to Eureka Springs.
At Rockin' Z, you can enjoy gorgeous riding on 1,100 acres at a working cattle ranch. Rockin' Z also has lodging, but if you prefer, there are several lodging options in nearby Harrison.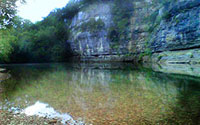 The Buffalo River flows through some of the largest and most beautiful limestone bluffs in Arkansas. It is the first National River and one of the last free flowing rivers in America. Floating on Kayak and Canoes is available through the river concessionaires. Cascading over swift running rapids, the river's path is dotted with quiet swimming holes for nearly 135 miles. We promise you will find adventure and peace here but be aware, GPS and cell signal is rare so get good directions before you head out and be sure and check Buffalo River water levels. Park Headquarters are located in Harrison, Arkansas or visit the National Park Service Buffalo National River website for more details.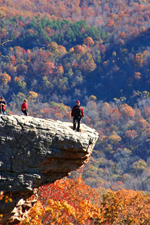 The park surrounding the river provides many opportunities for adventure. The Upper Buffalo District offers hiking, zip lining, picnicking, horseback riding, fishing, hunting, wildlife viewing, visiting historic districts, and bird-watching are items on the short list. There are so many waterfalls and natural features to discover. The best way to learn about some of these is to talk to someone who knows the area.
The roads in the Buffalo River Region are full of twists and turns gaining the area high acclaim as a Bike Friendly Destination. See Motorcycle Rides Here
If you don't know anyone to talk to about the Buffalo River, don't worry: there is a great blog, and you may want to visit it.
The Buffalo National River is one of the main tourist destinations in Arkansas. As mentioned before, park headquarters are located in Harrison, and park visitation averages more than 800,000 visitors a year. 70 percent of the visitation on the river is on 30 percent of its length, so do ask the National Park Service about less explored areas if you desire solitude. You can bring your own horses and ride in the river and in the park, but horseback riding by commercial operators is not allowed.