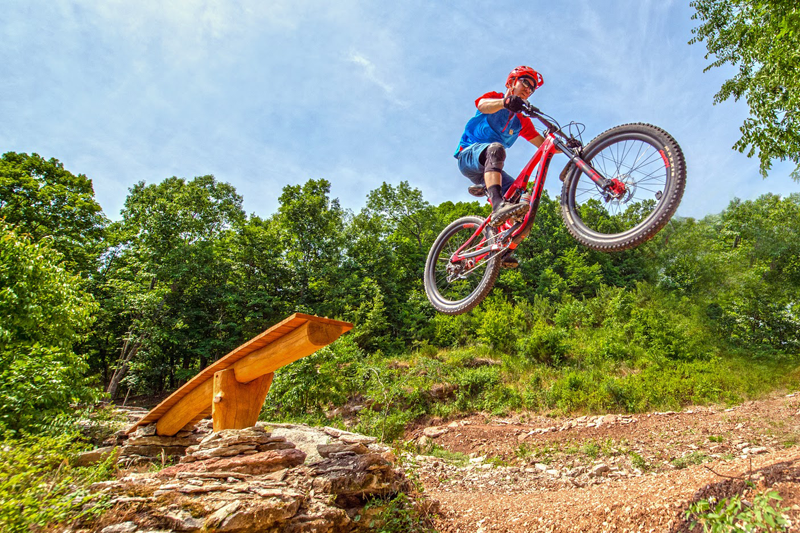 Eureka Springs is known as one of the best spots for mountain biking in the Ozarks. With a wide variety of trails for mountain bikers of any experience level, from beginners to experts, this mountain village is a perfect spot to start exploring the hills of northwest Arkansas. With the rise in popularity of this sport, Eureka Springs and the surrounding areas have opened many new and exciting trails specifically for mountain biking.
If you are looking for a scenic ride through breathtaking Ozark Mountains, Eureka Springs is the spot for you. Check out these great mountain biking trails in and around Eureka Springs.
---
This downhill trail system features seven distinct trails, catering to advanced mountain bikers. Access from Lake Leatherwood. Riders must negotiate the climb on Miner's Rock access road to the top. The fun begins there! All seven trails are about a mile in length. To access the Downhill trails, parking available at Leatherwood Sports Field or at Miner's Rock Parking Lot and coordinate a shuttle ride up to the entrance of the Downhill trails off of Hwy 62W. Click here for Gravity Trail Project Maps. The Lake Leatherwood Downhill trails are shown on the Interactive Mountain Biking Trail Map below as routes DH1-DH7.
Shuttle Service/Hours: Thursday 3PM-7PM, Friday Noon-7PM, Saturday 9AM-7PM, Sunday 9AM-7PM
To access the downhill trails without shuttle service, take the Miners Rock trail loop (multi use) that has the option to go up towards the start of the Downhill trails.
---
The Great Passion play is currently working on the construction of hiking and mountain biking trails on the Passion Play grounds. Renowned mountain bike and recreational trail builder Tony Boone and his crew completed building the first 5-mile loop of what is planned to be over 18 miles of trails on the almost 700-acre complex of the Great Passion Play in Eureka Springs, Arkansas. Several trails are now complete with more to come!
The Great Passion Play trails are shown on the Interactive Mountain Biking Trail Map by their names: Genesis, Holy Roller, Deliverance, Hallelujah.
---
Interactive Mountain Biking Trail Map