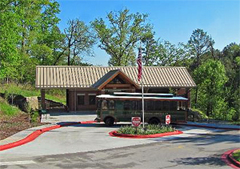 Getting to Eureka Springs, Arkansas is as easy as hopping on a Trolley (and yes, we have those too). Follow the links below to find your way. . .we'll be waiting at the station for you!
Parking
Maps
Trolley System
Arrival
Parking
Parking in downtown historic Eureka Springs, Arkansas is at a premium. There are pay for parking lots downtown as well as meters. Most hotels and lodgings provide free parking for visitors staying at that establishment. For day visitors, the City of Eureka now offeres Park & Ride options. Stop by the Planer Hill Park and Ride Welcome Center and hop on a trolley explore Eureka Springs.
Visit the Eureka Springs Downtown Network for a great interactive parking map.
Maps
Trolley System
2016 Eureka Springs Trolley information
Sample Fares (ADA fares and other fares are available):
Adult All-Day Pass $6.00
Adult Two-Day Pass $10.00
Child's Pass (ages 7 through 11) $2.00
One-Ride Pass $4.00
"Late Rider" Special $4.00*
*(unlimited rides, last two hours, any day,
or pay $6.00 and ride the next day too!)


Parking at Transit Center - $5.00 for All-Day

Eureka Springs Transit System • 137 W. Van Buren (Highway 62W) • Eureka Springs, AR 72632
(479) 253-9572
For more information on the trolley, please visit www.eurekatrolley.org
Arrival
Carroll County Airport
Berryville, Arkansas (10 miles east of Eureka Springs); 3900' paved and lighted runway; rental cars available on site; charters available.

Commercial Jet Service is available at the following locations: