Wedding Services - Thorncrown Chapel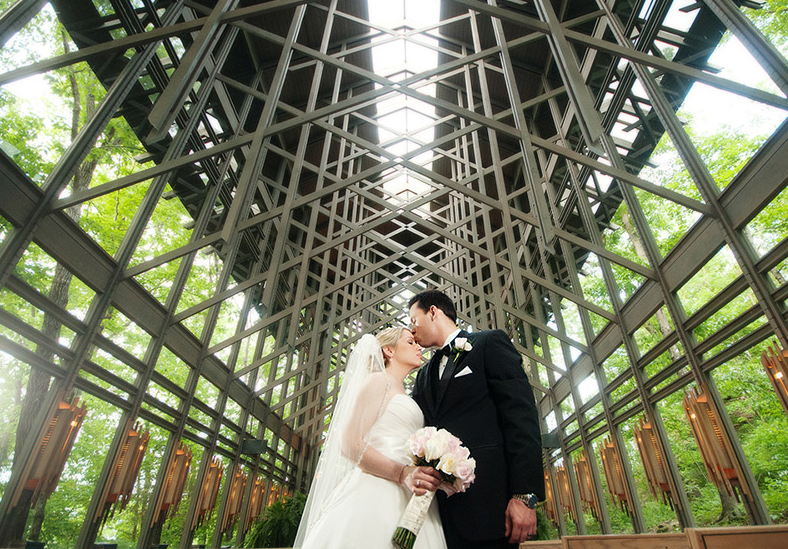 Description:
Thorncrown Chapel is a 48 foot tall glass structure with 425 windows and over 6,000 square feet of glass. See a FANTASTIC virtual tour. Available for daily visitation, retreats and weddings. Called the most beautiful chapel in the world, the glass and steel wonder hides deep in a woodland setting. There is no admission but donations are gratefully accepted.
Contact Information
Local Phone:
479-253-7401
E-Mail:
see their website
Accessibility: Wheelchair Access, Parking Access
Payment accepted (besides cash): Check, Visa, Master Card, Discover
Types of Services provided: , Officiant (Minister, JP), Seating, Wedding Location,
Wedding Locations: Thorncrown Chapel is Eureka Springs' premier wedding location. Since 1980 people have come from all over the world to get married at this beautiful glass cathedral in the woods. Surrounded by beautiful rock formations and a canopy of trees, the chapel provides an unforgettable setting for your wedding ceremony. Because Thorncrown has over 6,000 square feet of glass and 425 windows, your wedding can be outdoors and indoors in air conditioned comfort at the same time.
Max Guests # that can be accepted: 300
Range of Rates for services: $400.00-$900.00
Back to Wedding Services