Restaurants - Balcony Restaurant & Bar at the 1905 Basin Park Hotel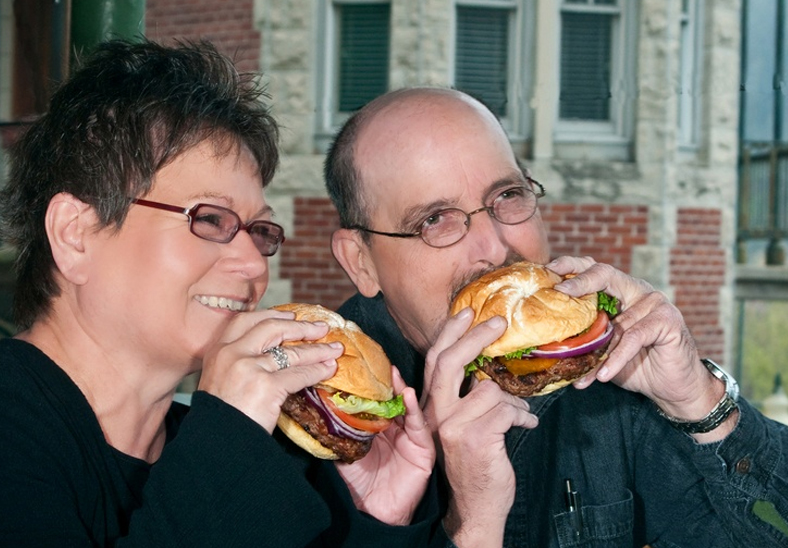 Address: 12 Spring Street, Eureka Springs, AR 72632
Location: Historic District

US Hwy 62 to State Hwy 23N then left on Spring Street, then Upstairs at The Basin Park Hotel
Web Address: basinpark.com/balconybarrestaurant.shtml
Description:
What do you get when you add the MOST FUN Downtown with a bistro-style menu filled with such an array of items any appetite can be satisfied? The Balcony Restaurant & Bar, "Home of Eureka Springs Best Burger". Enjoy a scrumptious lunch or dinner while you overlook Eureka Springs Entertainment District. View the activity on the streets while you enjoy a snack, a cold drink, a cup of coffee, an adult beverage, or a meal in the fresh mountain air. On weekends we feed your ears when we feature great live music performed by some of Eureka's greatest musical talents. But I guess one of our customers said it best, "I ate, I drank and yes, I was merry. It's like having a great meal in a skybox. Lots to eat, lots to see and most entertaining."

Type of Cuisine served: American, Eclectic, Steaks.

Service Type: Full Service, Takeout, Outdoor Dining, Entertainment Provided.

Type of Menu items available: Appetizers, Entrees, Dessert, Daily Specials, Children's Menu, Beer/Wine, Full Bar, Sunday Liquor, Specialty coffee, Vegetarian.

Total number of seats: 150

Largest group size: 150

Dress Requirments: Come-As-You-Are Casual.
Owner: Elise Roenigk
Contact Information
Local Phone:
479-253-7837
Toll Free:
888-506-7837
Fax:
479-253-6985
Accessibility: Bathroom Access, Parking Access, Wheelchair Access
Comments
No Reservations; Some Restrictions Apply and Occasional Short Waits on Saturdays and Sundays due to High Volume.
Visit Website
Back to Restaurants