Nightlife - Lucky 7 Rooftop Billiards of The 1905 Basin Park Hotel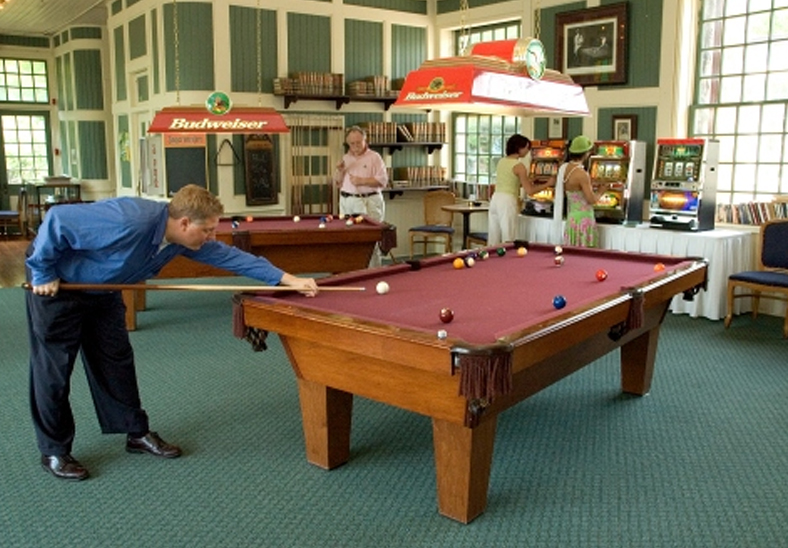 Address: 12 Spring Street, Eureka Springs, AR 72632
Location: Historic District

US Hwy 62 to State Hwy 23N then left on Spring Street... then Upstairs at The Basin Park Hotel
Web Address: www.eurekaspringsrestaurant.com/
Description:
For a chance to play a game of pool, throw back a shot, feel an ice cold beer run down your throat and/or watch your favorite sporting event on a big screen TV, come into The Basin Park Hotel's lobby, jump on our elevator and ascend to the 6th floor. The Lucky 7 Rooftop Billiards is one of downtown's favorite "21 and over" gathering spots. Rack 'em up… for pocket billiards on 2 regulation-size tables. Hand-glide a puck... on our NEW shuffleboard table. Get the point... as you throw a few darts. Tee it up… as you challenge someone to a foosball game. You'll never get board... as you play chess, backgammon or dominos. Open wide... an adult beverage or a tasty appetizer is waiting for you. Send up a cheer... as you watch your favorite sporting events on our Big Screen TV. It's all here, all for you... and your MOST FUN Downtown.
Features: Trolley stop within 5 minute walk.
Food provided: Bar Snacks.
Contact Information
Local Phone:
479-253-7837
Toll Free:
888-506-7837
Accessibility: Bathroom Access, Parking Access, Wheelchair Access
Visit Website
Back to Nightlife