Attractions - Great Passion Play Marketplace: Parables of the Potter & David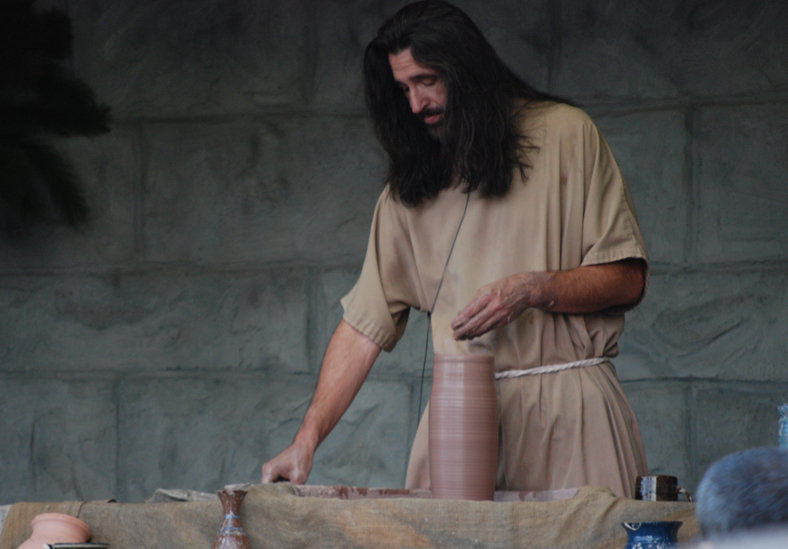 Description:
Visit the Marketplace at The Great Passion Play which features the Parables of the Potter and David the Shepherd. Get a look at goods and artifacts that you might have purchased in Bible days.

David the Shepherd gives a hands-on demonstration with his shepherd's sling and shows how David overcame the Giant. You wouldn't believe how far a simple shepherd's sling can throw a stone. He also gives an exciting 15-minute presentation about shepherd's in the Bible and Jesus the Good Shepherd. David gives a free presentation at 7:00 PM each night before the Play (6:00 PM after Labor Day).

The Potter makes a piece of pottery just as a potter in the Bible would make a piece of pottery. See the vessel transformed before your very eyes as the Potter shapes, forms, and molds the clay into a beautiful piece of art. The Potter gives a free presentation at 7:30 PM each night before the Play (6:30 PM after Labor Day).
Owner: Great Passion Play
Contact Information
Local Phone:
479-253-9200
Toll Free:
800-882-7529
Fax:
479-253-2987
E-Mail:
see their website
Accessibility: Parking Access, Wheelchair Access
Who enjoys this Attraction: 0-5, 6-12, 13-16, 17-21, Adult, Senior
Additional info about Attraction: Cameras OK, Outdoor, Pets OK, Self-led
Features:Parking arrangements, Trolley stop within 5 minute walk
Group Policy:Groups and Charter buses welcome.
Bad Weather Policy:
Comments
Seating available for 300 people.
Visit Website
Back to Attractions