Attractions - Great Passion Play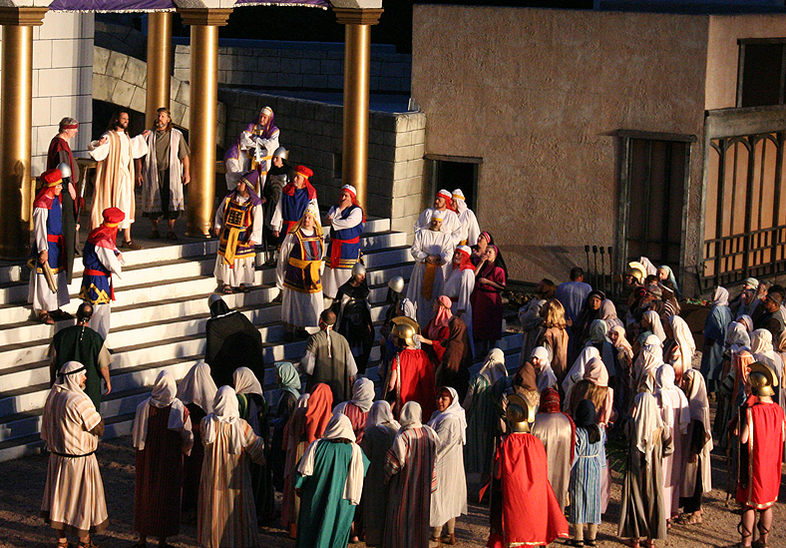 Address: 935 Passion Play Road, Eureka Springs, AR 72632
Location: Attraction District

Highway 62 East to Passion Play Road, Passion Play Road to The Great Passion Play
Web Address: www.greatpassionplay.org
Description:
CLICK HERE to buy tickets online NOW !!
The Great Passion Play is America's "#1 Attended Outdoor Drama" Since 1968, 7.6 million people have witnessed this magnificent drama. Over 200 actors and animals help bring the Greatest Story Ever Told to life in a way that you have never seen it before.

You can sit in the seat that you want because seating is open! Seating begins at 7:50 PM.

The Great Passion Play begins at 8:30 PM and lasts until 10:15 PM. Gift shops are open after the Play.

For Reservations, call toll free 800-882-7529 or visit www.GreatPassionPlay.org
Owner: Elna M. Smith Foundation
Contact Information
Local Phone:
479-253-9200
Toll Free:
800-882-7529
Fax:
479-253-2302
Accessibility: Bathroom Access, Parking Access, Wheelchair Access
Ticket Prices:
Price of Regular Ticket: $27.00
Price of Child Ticket: $13.00
Price of Student Ticket: $17.00

Who enjoys this Attraction: 0-5, 6-12, 13-16, 17-21, Adult, Senior
Features:Parking arrangements, Trolley stop within 5 minute walk
Payment accepted (besides cash): Cash, Check, Visa, Master Card, Discover, American Express
Comments
Curtain time is 8:30 (7:30 after Labor Day) the Play is performed every night EXCEPT Sunday and Wednesday .
Visit Website
Book Now
Back to Attractions