Attractions - Christ of the Ozarks Statue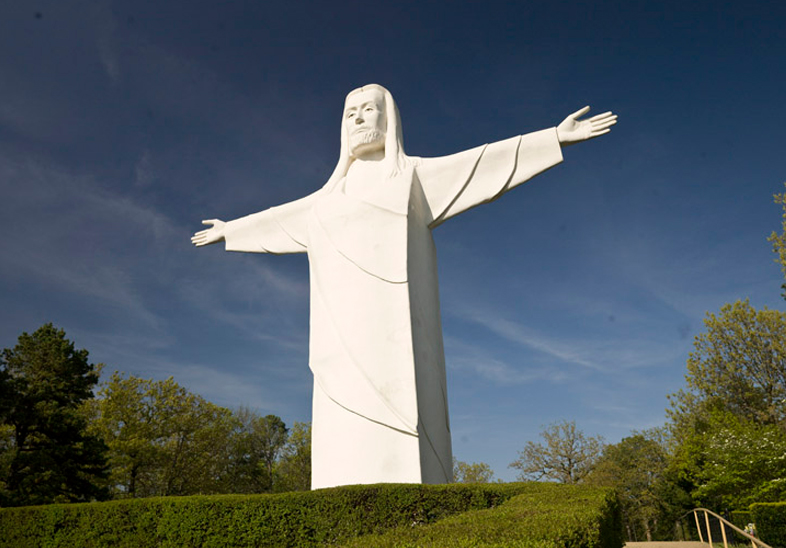 Description:
The Christ of the Ozarks statue overlooks the picturesque Victorian village of Eureka Springs, Arkansas. The inspiring image of the seven-story statue may be seen from the village's historic district in the valley below. The Statue is free to the public.
It is the largest Statue of Christ in North America and the 2nd largest in the world.

Every inch of the remarkable sculpture was built by hand. No poured segments were used in the statue's construction. At an altitude of 1500 feet, the statue is made of 24 layers of white mortar on a steel frame and weighs over two million pounds. The foundation, which is virtually welded into the rock of the mountain, required 340 tons of concrete interlaced with steel. During construction, the framework of the statue was completely surrounded by scaffolding. Workers had to build an elevator up the side of the framework in order to reach the statue's higher segments. Taller than most humans, the hands from wrist to fingertip measure approximately 7 feet. The statue's arm spread from fingertip to fingertip spans 65 feet and its overall height is 67 feet.
Owner: Great Passion Play
Contact Information
Local Phone:
479-253-9200
Toll Free:
800-882-7529
Fax:
479-253-2987
E-Mail:
see their website
Accessibility: Parking Access, Wheelchair Access
Who enjoys this Attraction: 0-5, 6-12, 13-16, 17-21, Adult, Senior
Additional info about Attraction: Cameras OK, Outdoor, Pets OK, Self-led
Features:Parking arrangements, Trolley stop within 5 minute walk
Group Policy:Groups and Charter buses welcome.
Bad Weather Policy:
Comments
Free. Always open.
Visit Website
Back to Attractions