Crystal Bridges Museum of American Art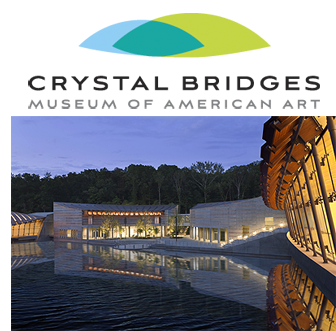 In the early part of the nineteenth century a young American nation sought a unique cultural identity. Through literary and cultural movements like that of the Hudson River School that artists and writers looked to nature and the grandeur of the American landscape to define America for the rest of the world. Works of art including those by Thomas Cole, Frederic Church, and Asher Brown Durand as well as works that have captivated the world from Colonial to contemporary times are on view year round at Crystal Bridges Museum of American Art.
Crystal Bridges Museum of American Art explores the unfolding story of America and celebrates the American spirit in a setting that unites the power of art with the beauty of landscape. Surrounded by 120 acres of forests, garden sculpture and walking trails, Crystal Bridges is named for Crystal Creek which feed the ponds nestling the museum designed by world-renowned architect Moshe Safdie.
Crystal Bridges Trail can be reached from downtown Bentonville. The trailhead entrance is on Northeast 3rd Street between A and B Streets (across from the splash park). Crystal Bridges Trail can also be accessed from Compton Gardens' entrance on North Main Street, or from Northeast A Street north of the Museum. The Art Trail begins at James Turrell's Skyspace installation, The Way of Color, on the Crystal Bridges Trail which will lead to the Museum's south lobby.
600 Museum Way
Bentonville, Arkansas 72712
479.418.5700