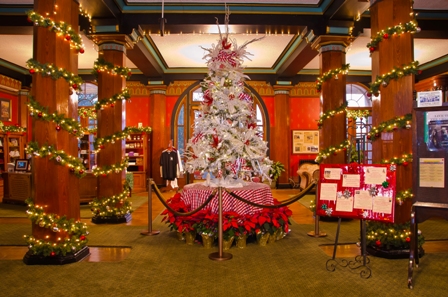 The 2020 Eureka Springs Christmas Festival preserves the Holiday Spirits during these trying times. Families who are searching for a hometown feel this Christmas, where friends and neighbors share the spirit of the season, can find what they're looking for in our historic Victorian Village of Eureka Springs.
Eureka Springs decks the halls with colorful lights ablaze throughout the historic district. Residents share the warmth of a small-town Christmas with visitors through the many holiday events and activities. The city has block after block of shops, boutiques, fine art galleries, and craft emporiums perfect for those one-of-a-kind gifts for your loved ones.
The many holiday-related events throughout December will put you in that holiday spirit include:
November 28th-January 4th: Drive-Through Light Display at the Great Passion Play
Great Passion Play Grounds
Christmas from Thanksgiving night through January 4 with a by-donation drive-through light display with lights on from dark through 8:00 PM on Thursdays through Sundays on the grounds of The Great Passion Play. For more info visit www.greatpassionplay.org/christmas
December 5th – January 1st: Christmas Forest at the Crescent Hotel
More than 30 trees will adorn the East Lawn serving a holiday focal point of the hotel's nearly 15 acres. More than just beautiful, the annual Christmas forest is a community-wide decoration event that allows votes/collections to go to one's favorite creation. All money raised goes directly to the charity with the top three vote-getters receiving an additional bonus from the Crescent and Basin Park Hotels.
The Christmas Forest will remain on the East Lawn of the Crescent Hotel for display through January 1st, 2021. Learn more at www.christmasatthecrescent.com
December 4th: A Twist on Tradition - the "Giving Back Stationary Christmas Parade"
Holiday floats and displays will be available for drive-by viewing at various locations on the upper loop, through downtown, and throughout the city from 6-8 pm. There will also be areas set up to safely drop off donations for your favorite charities all along the parade route.

December 5th & 12th: Shopping & Santas galore!
Our wide array of unique and shops and galleries is the perfect spot to get all your holiday shopping done.
Everything is decorated for the holidays, and holiday music will be on the overhead balconies from 1 P.M. - 3 P.M.
Also on a balcony overhead, Santa will be socially distanced so you can safely relay your Christmas Wishlist from 1:30 P.M. - 3 P.M.
On the 12th from 5 P.M. to 7 P.M., the shop windows come alive with elves, Santa, and delightful characters for kids and adults to be surprised! The evening is sprinkled with holiday spirit as the magic unfolds, one shop after the other.
Of course, various stores will have special offers just for the Holidays.
December 12th & 13th: outdoor Victorian Street Fair
The holidays will be a little brighter this year with the premiere of "A Victorian Christmas at the Queen Anne Mansion and Resort."
The free, family-friendly annual affair's first year will be similar to an outdoor Victorian street fair, and will embody "the most wonderful time of the year" with music and carols, food and gift vendors, family crafts and games – all in a beautiful Victorian and safe setting.
There will be photo ops in the Peppermint Palace, visits with Santa, a reading of the Biblical Christmas story, and many surprises. Don't be a Scrooge, make plans now to enjoy roasted chestnuts, hearty soups, hot chocolate, gingerbread cookies and other old-time traditions as you stroll the grounds with friends and family.
Hours are 1 P.M. – 8 P.M. on Saturday, December 12, and 1 P.M. – 6 P.M. on Sunday, December 13.
December 19th: Ugly Sweater contest, Santa takes wishes, and more.
Finish up your holiday shopping list! Our wide array of unique and shops and galleries is the perfect spot to get all your holiday shopping done. We willalso have an "Ugly Sweater Contest." Holiday music will be on the overhead balconies from 1 P.M. - 2:30 P.M., where you will also find Santa socially distanced so you can safely relay your Christmas Wishlist from 1:30 P.M. - 2:30 P.M.
----------------
Shopping in Eureka Springs, Arkansas is like stepping into a Christmas card and finding the perfect gifts for your whole family. Transport yourself and your family to a fun, festive holiday season where joy is sprinkled in every step as you walk through the downtown shopping district. You will discover shops that look like they were decorated by Santa's elves and find unique gifts that can't be found anywhere else in the world.
Are you are tired of shopping malls and burnt out on online shopping or big box stores? It's the perfect time to rediscover the Christmas Spirit while supporting Main Street America. The independent retailers of Eureka Springs make rediscovering the magic of the holiday season a cherished memory.
Whether you are traveling with your spouse to kiss under the mistletoe in our romantic setting, with girl friends to shop until you drop and relax in the spas, or with your whole family you will get recharged with the holiday spirit that abounds down the hills and sparkles in the springs! Make your plans today to explore Eureka Springs during the holidays.
Don't Miss These Great Events!