Discover Nature's Best In Eureka Springs West
The area known as "Eureka Springs West" is located just a few scenic miles west of historic downtown Eureka Springs, Arkansas. Enjoy the solitude of nature, discover Beaver Lake, canoe the famed White River, visit Thorncrown Chapel, Blue Spring, and hike Lake Leatherwood in this nature lovers paradise in the heart of the Ozarks.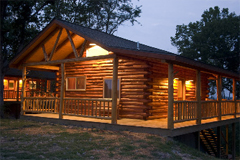 Beaver Lake View Resort and The Roadrunner Inn offer offers two beautiful views of either the Ozark Mountains or Beaver Lake. Their brand new, luxury log cabins offer8' X 22' covered back deck to sit and take it all in! You dont have to leave the comfort of your cabin to enjoy the wildlife, this entire property is certified as a backyard wildlife habitat by both the National Wildlife Federation and the Arkansas Game & Fish Commission!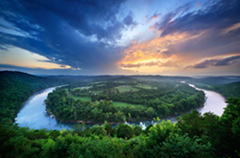 Scenic Waterways - Enjoy the Beautiful White River
The White River is a nature lover's delight during every season. Towering limestone bluffs, deep caves, and numerous natural springs afford shutterbugs and nature lovers' hours of enjoyment throughout the year. Can-U-Canoe Riverview Cabins are nestled high in a bluff four hundred feet above the amazing Arkansas White River and Inspiration Valley. This resort offers six affordable luxury cabins and two vacation resort homes provide a great location for your family vacation, family reunions, corporate retreats, weddings and romantic getaways. Enjoy nature at its best by watching beautiful sunsets on the river from your private deck nestled among Oak, Pine, Dogwood and Redbud trees along with beautiful rock bluffs.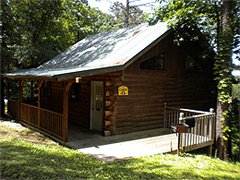 Outdoor adventures for the Nature Lovers
The heart of Arkansas' Ozark country offers horseback riding, canoe floats, fishing trips, picnicking, swimming and boat rentals. Nestled in a private, 10-acre retreat, Cabin Fever Resort offers access to all of these outdoor adventures. With the charm of a Bed and Breakfast, Cabin Fever Resort provides guests with spacious rooms with full kitchen, and some with Jacuzzi spas. You can stroll through this peaceful woodland retreat, relax in the shade, or head out on a day trip to one of the regions many destinations, including the White River and Beaver Lake.
Pristine lakes and rivers offering boating, canoeing, sailing, and kayaking adventure surround Eureka Springs West. Beaver Lake and the White River are a nature lover's delight during every season.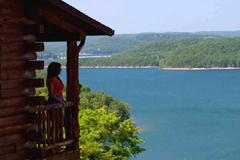 Enjoy the Water Wonderland of the Ozarks - Beaver Lake
Beaver Lake is nestled high in the Ozark Mountains of northwest Arkansas, creating the birthplace of the White River. With 487 miles of shoreline covering 31,700 acres, Beaver Lake offers the best in recreational opportunities for outdoor enthusiasts of all ages. It's one of the cleanest and clearest lakes in the lower 48, drawing scuba divers from around the country.
For spectacular lake views, check out Lake Shore Cabins on Beaver Lake. Enjoy their large covered boat dock with slips, large swim deck with ladders, lounge chairs, picnic tables with umbrellas, fishing and sun deck and cabins that feature all the comforts of home. Lake Shore Cabins is located a short 9 miles from downtown Eureka Springs and 2 miles from the beautiful White River.
Lake Forest Luxury Log Cabins is located in the beautiful Beaver Lake Area of Eureka Springs, AR. We are located just 7 ½ miles from downtown Eureka Springs and just 3 miles from Starkey Marina and 4 miles from the Beaver Dam/White River access. Lake Forest Cabins features cabins that sleep 2-10 people with 2 person Jacuzzi tubs, fireplaces, Full-Fully equipped kitchens, BBQ grills, covered decks all the comforts of home! Paved roads throughout and a Swimming Pool on the premises.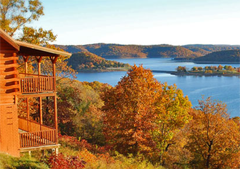 A Fall Leaf Peeping Mecca
Winding roads open up to breathtaking vistas of the tree covered Ozark Mountains. Red black gum and dogwood, yellow hickory, orange sassafras, purple sweet gum, and flaming maples orchestrate a symphony of color. Sunsets over Beaver Lake mimic autumnal colors in the water and colorful leaves travel rushing mountain streams.
High on a ridge overlooking Beaver Lakes Dam Site Park sits Sugar Ridge Resort. Honeymoon cabins and family cabins enjoy an unlimited view toward the sunset on 75 private acres. Cabins are fully furnished and feature wood burning fireplaces and jetted tubs. Location is the key, just ½ mile from lake access and 1 mile to the White River. Enjoy watching Eagles soar from your cabin or just relax with an in room massage. Try your luck at fishing for world class trout or striped bass right below the resort.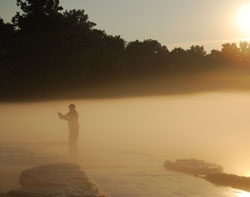 Parks on the Eureka Springs side of the Lake include:
A variety of recreational facilities surround the lake, including developed parks with campsites for tents and RV's. Other facilities include swimming beaches, hiking trails, boat ramps, and group picnic shelters. Commercial marinas on the lake offer boat rentals (fishing boats, pontoons, wave runners), fuel, fishing guide info, lake maps and fishing licenses.
Starkey Park (commercial marina & Belle of the Ozarks landing)
White River Dam Site (picnic areas, camping, boat ramps)
Beaver Lake Dam Site (swimming, picnic areas, scuba diving, group facilities)
Access Beaver Lake/Beaver Dam via Hwy 62 to Hwy 187 South Loop.
The "painted" limestone bluffs banking Beaver Lake and the rock shelters of Table Rock Lake are impressive and full of record-breaking striped bass. Many varieties of fish inhabit Beaver Lake including trophy size stripers, bass, catfish, bluegill, crappie, red-ear sunfish, and walleye. Just below Beaver Dam, discover the famed White River, known for its national & state trout records. Many local expert Beaver Lake/White River fishing guides are available to help you catch your limit.
Eagle & Bird Watching Paradise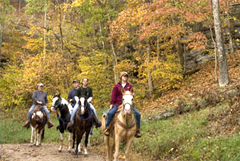 Eureka Springs in the fall features more than just spectacular color. Soaring across Beaver Lake, majestic eagles search for food. Eagle viewing cruises depart from Rocky Branch Recreation Area or on Belle of the Ozarks and provide unparalleled views from the water. Visitors enjoy seeing wild turkeys, roadrunners, peregrine falcons, owls, red tailed hawks, pileated woodpeckers, and many other bird species.
Nature awaits just minutes from Eureka Springs at Bear Mountain Log Cabins. Butterflies dance amid the abundant wildflowers as the chipmunks and squirrels play hide and seek in an emerald green forest. This 30-acre retreat is home to a variety of wildlife. Hike the through the woods and enjoy the crystal clear blue skies of these Ozark mountains and catch a glimpse of where bald eagles make their home. At night you can sometimes hear the coyotes and bears come to visit in Huckleberry season.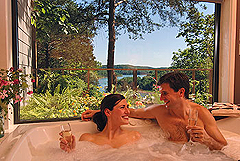 Romantic getaways
Beaver Lakefront Cabins offers modern, spacious cabins and suites with glass walls over looking Beaver Lake. Eight miles west of Eureka Springs and literally at the 'end of the road,' all of their accommodations have romantic, lake view jacuzzis for two, stone fireplaces, full kitchens and HDTV. They offer many distinctive services to their guests including private dining, massage, chartered sailing, boat rentals, and of course, Beaver Lake's only indoor heated fishing room, combined with relax on our 66 foot swim deck and floating picnic area.
"The Wedding Capital of the South"
Eureka Springs is one of the top 5 wedding destinations in the country…and with good reason. Eureka West offers beautiful nuptial settings with a large variety of lodging and event facilities. If you are looking for an outdoor wedding, you can have a spectacular outdoor ceremony, especially at sunset, at Circle of Light overlooking Beaver Lake. This chapel offers three settings with services/receptions up to 65 people. The Sky Ridge Pavilion offers the largest event facility in Eureka Springs West, and Blue Spring is a popular outdoor wedding location with its gorgeous park-like setting.
Art, Art & More Art
There are more artists per capita in Eureka Springs than any city in the US. There are numerous art galleries throughout historic downtown and Eureka Springs West, including the Sacred Earth Gallery owned by award winning photographer Edward Robison III. For budding artists, visit the Eureka Springs School of the Arts, the Writers Colony, and Opera in the Ozarks. America's biggest story in American art is the recent opening of the Crystal Bridges Art Museum in Rogers Arkansas, just 30 minutes from Eureka Springs West. Built by Alice Walton of the famous Walton (Wal-Mart) family it contains some of the best American art in the country – including the iconic "Rosie the Riveter" – all free to the public.

Eureka Springs West is the ideal weekend getaway destination, but there is so much to see that even a week is not enough to enjoy it all. Please come visit !