Welcome
Every now and then you need a break. A time for you, a time to reflect, a time to experience. Eureka Springs, Arkansas is the place that beckons your soul and renews your spirit.
CLICK HERE for a great video of Eureka Springs !!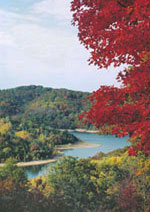 We invite you to bask in our natural beauty and share in our timeless treasures. A Victorian secret hidden amid the rolling Ozark mountains, Eureka Springs is cradled between two mountains of lush, hardwood forests. We're not your average tourist town, we're the experience for your senses you've been seeking.
When it's time to explore, when it's time to relax, when it's time to be a bit different, Eureka Springs welcomes you. Unique, mysterious, charming, elegant, and comforting describe this oasis of diversity.
Eureka Springs is closer to major airports than many destinations you may choose. Isn't it time for you to go beyond a destination and choose a journey instead? Eureka Springs, Arkansas is that journey.
The Eureka Mystique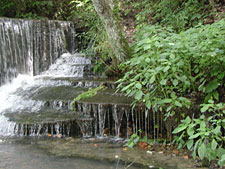 Visitors have been coming to Eureka Springs for a long, long time. Although this Ozark town is known today for its incredible Victorian architecture, arts, antiques and natural beauty, the original attraction was the water.
Legend has it that the Native American tribes of the area believed that the cold spring water could cure many ailments, and the surrounding land was considered sacred ground. Victorian-age health-seekers deemed the hills full of miracle cures, and flocked to the area by the thousands, creating a stylish retreat amid the grand, green curves of nature.
Read more about Eureka Springs' role as a Legendary City of Healing.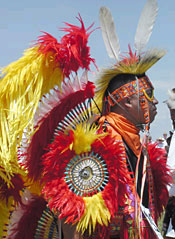 Eureka Springs has remained sacred ground on several levels. Gurus and merchants alike feel that soul-deep pull toward the rejuvenating springs below the downtown Historic District, and know they've found something special.
In the 1960s, The Great Passion Play and the Christ of the Ozarks statue became a touchstone for Christian visitors; in the same decade, the flower-driven counter-culture spun into town searching for true art and inner peace.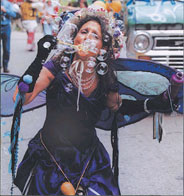 Today, bits and pieces of all sides create the eccentric kaleidoscope of Eureka Springs; it has been called the place where the misfits fit, but actually, it's a colorful, creative village where anyone can fit in, no matter your politics or preference.
Conferences and festivals celebrate the diversity of the area: hot rods, gospel music, UFOs and opera all have a place here.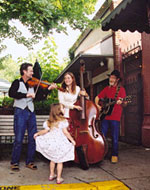 People are still drawn to the healing power of this small community tucked in the mountains, but relaxation has replaced the miracles found in water. From day spas and Victorian bed and breakfasts to music shows and bumper boats, Eureka Springs has it all. And even though more than a million people walk along the winding streets each year, the town is still sacred to anyone who has stopped, smiled, and realized that their heart has come home.


Click here for more Eureka Springs history and interesting facts.


Location and Climate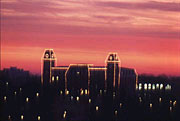 Eureka Springs, with a population of approximately 2500, is located in northwest Arkansas in the heart of the Ozark Mountains near Beaver Lake. Branson, Missouri is only 45 miles northwest. Eureka Springs' central location makes transportation convenient by use of U.S. Hwy 62 East and West and State Hwy 23 North and South. Air transportation includes the Carroll County Municipal Airport (twelve miles away), a commercial airport in Fayetteville and an international airport in Highfil (airport code XNA), just west of Bentonville.
Eureka Springs enjoys four distinct but mild seasons. The average annual temperature is a high of 71 F and a low of 46 F. Average annual rainfall is approximately 36 inches per year. The normal humidity is 53%. Spring and summer bring very pleasant warm weather. Winter temperatures seldom reach below freezing and snow is rarely heavy. Many visitors come for the autumn change of leaves and the stunning display of colors.