About Table Rock Lake
---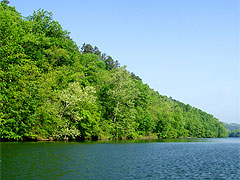 Table Rock Lake is 52 miles long with nearly 800 miles of shoreline covering 52,300 acres. Intrepid mariners have been known to travel by boat from Branson, MO to Eureka Springs via Table Rock Lake.
You can access Table Rock Lake from Eureka Springs via Hwy 23N to Holiday Island, or from Kimberling City, MO by water.
Table Rock Lake motels, condominiums and townhomes can be found on www.holidayisland.com.
Fishing Table Rock Lake
---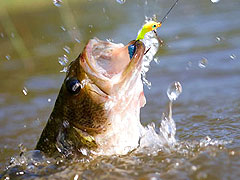 If bass fishing is what you prefer, Table Rock is recognized as one of the top bass fishing lakes in Amercia. Table Rock Lake is home to largemouth, smallmouth, Kentucky spotted bass and white bass. Other fish besides bass include crappie and large bluegill and catfish.
Table Rock Lake Lodging
---
| | | |
| --- | --- | --- |
| Holiday Island | (479) 253-7810 | A planned resort community, offers golfing privileges with lodging accommodations. |
| Holiday Island Marina | (479) 253-8300 | The nearest Table Rock Lake marina to Eureka Springs Offers boat rentals (fishing boats, pontoons, jet skis, ski rigs, and paddle boats), fuel, bait and tackle, fishing guide info, lake maps, fishing licenses, boat launching ramp and lake lodging info. |
| Roaring River & Table Rock | (417) 271-4215 | Mike's Hideaway is just minutes from Table Rock Lake and right on the Roaring River. Fishing, camping, RV spaces, store, pool, and lots of places to hike and bike. |