About Lake Leatherwood
---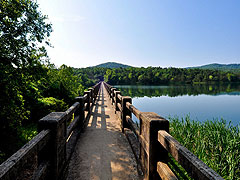 Lake Leatherwood is a 1,600 acre Eureka Springs city park. The largest hand-laid, limestone dam in the nation impounds a lake 1 1/4 mile long with about 3 miles of shoreline. The lake itself covers 85 acres.
Lake Leatherwood Park offers cabins, fishing, camping, hiking and mountain biking trails, pavilion rentals, swimming, paddle boat and fishing boat rentals, a boat launching ramp and bait and tackle.
You can access Lake Leatherwood from Eureka Springs via Hwy 62W.