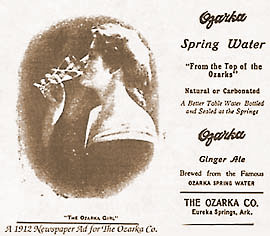 THE OZARKA WATER COMPANY
Q: During the years when drinking the water from the springs was so highly praised for cures, did anyone bottle it?
A: The first recorded white man to find the healing water, bottled it. It was called "Dr. Jackson's Magic Eye Water". Several water shipping companies came and went after that. John S. Tibbs was one of the pioneers in water shipping, and he was succeeded by M.A. Church. Another was the Ramsey and Turner Water Company. The most famous was the Ozarka Water Company which shipped water for over a quarter of a century.



Q: Where did they get the water that was bottled for interstate shipping? A: Tibbs and Church are always shown in old pictures at the Basin Spring. Ramsey and Turner used Mystic Spring but said that they would get it from any spring requested. Ozarka's came from Ozarka Spring and, as it was situated above the train depot, the water was piped directly into glass lined rail cars. There were distributors that bottled it when the railcars arrived at their destinations. Ozarka's water was also served aboard all Frisco trains.

Q: Can Ozarka water still be purchased?
A: A product by the name of Ozarka Water can be found in Texas, but the water is not from Eureka Springs. It is evidently the franchise purchased here by a bottling company years ago.

Note: The Ozarka Water label was purchased by Perrier Corporation.

The Ozarka Water Company building is located at 75 Hillside Avenue.

Kindly provided by Susan Schaefer. All Rights Reserved. Information presented here is used with the permission of the author.
---