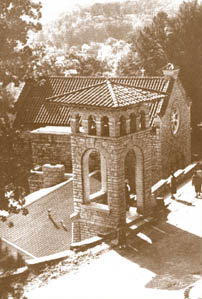 ST. ELIZABETH'S CATHOLIC CHURCH
Q: Where is St. Elizabeth's?
A: It is on the tier of land between the Carnegie Library and the Crescent Hotel, accessible by Crescent Drive (Crescent Grade) off of the Historic Loop (Old 62B)

Q: Why was it built?
A: It began as a chapel Richard Kerens built in memory of his mother. According to a 1907 article in the Arkansas Traveler, the chapel was completed in 1906. Kerens was one of the builders of the Crescent Hotel and also donated the land for the Carnegie Library. Eventually, he built St. Elizabeth's Catholic Church, which was dedicated in 1909.The church is connected to the chapel and is in memory of both his parents. It replaced the Catholic Church that was on Fairmont Street.



Q: What is unique about the church?
A: The walk from the bell tower has the 14 Stations of the Cross in Italian marble along the right hand side. The chapel was designed with St. Sophia's Church in Istanbul, Turkey in mind.

Q: Did they bring everything over from the old church on Fairmont St.?
A: No. They moved only a few statues and the old altar. Several things have been donated as memorial gifts however. One was the large chandelier with 7511 crystals and 19 interior lights that hangs from the center of the dome.

Q: Besides being a member of the financial group (the Eureka Improvement Company) that built the Crescent, what else did Richard Kerens do?
A: He came to Eureka Springs in 1881 at the request of Powell Clayton. Both were avid Republicans and both became ambassadors. They were also successful military men on the Union side in the Civil War. Kerens' involvement in railroads across the United States gave him the expertise and connections that Powell Clayton wanted to use to help get a railroad line to Eureka Springs. They accomplished this and it was personally and financially responsible for the opening of the parochial school and Hotel Dieu Hospital on Fairmont Street. Both Kerens and his wife were responsible for the construction of chapels and churches in several states, and in establishing a scholarship at Notre Dame. Kerens' life was his family, faith, politics and railroads. He died in 1916.

Kindly provided by Susan Schaefer. All Rights Reserved. Information presented here is used with the permission of the author.
---