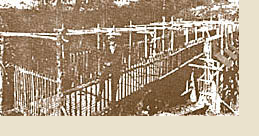 ARTIST'S BRIDGE STUDIO
Q: What was the Artists' Bridge Studio?
A: In 1931 two local men built a bridge to span a ravine where artists (writers, painters, etc.) could find solitude to do their work.




Q: Did the artists sit on the bridge?
A: No. It had five compartments on a lower level which hung beneath the walking bridge. These were outfitted with tables, chairs and electric lights. The combined length of the two levels was 231 feet.

Q: Why did they build it?
A: Some sources say it was a dream of the two men, Sam Leath and Steele Kennedy. Others say it was their desire to make this an artists' colony and bring more prosperity to Eureka Springs.

Q: Where did they build it?
A: Behind what is now the Best Western -Inn of the Ozarks on HWY 62 West. At the time it was called Camp Leath, which had replaced Mount Air.

Q: How was it built?
A: The two men built it one section at a time, alternately, coming together in the middle. Originally, the span was decided by a rifle shot which, when the bridge was completed, proved to have been quite accurate.

Q: What happened to it?
A: Camp Leath was sold and, like many buildings during the Depression it was torn down to salvage the lumber. We lost many hotels and boarding homes during those years for the lumber.


Kindly provided by Susan Schaefer. All Rights Reserved. Information presented here is used with the permission of the author.



---