---


Reprinted from the gay-themed Our World Magazine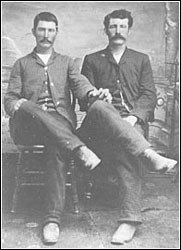 As the Town's advertising states, for centuries, Eureka Springs has been a place where people gather for rest, renewal and recreation. This is also an area of historic significance and splendid nostalgia.

Sioux legend tells of a princess whose eyesight was restored by the curative waters of the town's healing springs. Eureka translates to "I have found it!" the supposed exclamation of the pioneer physician who discovered the mythical Indian Healing Springs.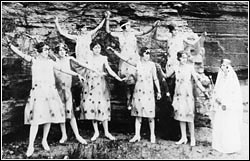 In the 1800's, early settlers and society people flocked to these waters to rebuild their health and well-being. You won't find the Eureka Mystique touted in the standard promotional literature of our town, but ask around to discover what this unseen element really is.

The Little Rock, Arkansas Democrat Gazette refers to us as the "haven for the state's eccentrics."

Ask a random sampling of travelers nationwide how many places they have visited in the U.S. where they have stayed in a gay bed and breakfast; attended a gospel music show; had dinner in a restaurant where some patrons wore Christian T-shirts, while others sported multi-colored hair and multiple body piercings; and bar-hopped in a town where 'mixed' couples-men and women, men and men, women and women-danced the night away with total security and disinterest from other patrons?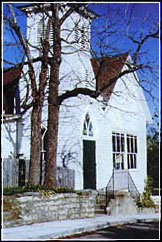 I'm willing to bet the response from seasoned tourists will be, "You must mean that little town in Arkansas!"
<
Walk through Eureka Springs and you'll not only see diversity, but also tolerance and respect for the differences among us. Envision a place where a gallery displaying erotic art and a Bible store stand side by side. Imagine a group of bonneted Quakers parting company politely to pass around two men kissing on a corner.

Our own Metropolitan Community Church of the Living Springs is active in the community and is housed in a lovely 100-year-old church building at 17 Elk Street. The church is also a popular site for gay and lesbian commitment ceremonies.


People originally came to Eureka to partake of the miraculous, healing waters of our many natural springs. Many modern day visitors either come to see the famous Passion Play, relax and enjoy a massage, or have read that we are located at one of the Earth's vortexes, similar to the much-hyped Sedona, Arizona. Others are not quite sure why they are here, they just love to wander around the town because it "feels good."

Some official brochures will advertise that we "sell" family entertainment and quaint Victorian architecture. What visitors actually discover is spiritual renewal and a sense of being in a place where things are, perhaps, the way they ought to be. We don't propagate hope, optimism and tolerance, but these are the town's real harvest, all part of the hidden miracle that the creates the "Eureka Mystique."


Somewhere In Time
Eureka Springs is built on two mountains with a gentle valley between. Some have described the town as "Little Switzerland," others call it "Utopia." The narrow, winding streets of down-town lead visitors to a vast array of specialty shops, art galleries, restaurants and historic hotels. Neat mini-parks surrounding the Springs are dispersed throughout the area and perfectly preserved buildings transport one back in time to a gentler era. For travelers who desire bed and breakfast lodgings, Eureka is "B&B Heaven." Many are gay or lesbian owned, most are gay-friendly.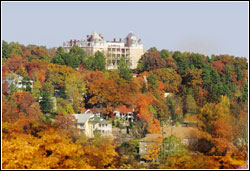 Eureka Springs Inns: Victorian Elegance & Modern Comfort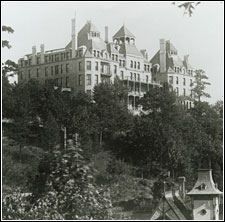 Eureka Springs offers one of the largest and most attractive selections of gay and gay-friendly accommodations in the United States, especially significant when you factor in the size of the population. Many lodgings are gay/lesbian owned and most are decidedly gay-friendly.


Select solid Victorian homes, stone cottages or log cabins, all furnished with tasty, hearty meals and superlative service. Many feature fireplaces, jacuzzis, television and VCRs. Interestingly, most do not have in-room phones-almost unnecessary during your stay.


Other choices include magnificent hotels, restored to evoke a turn-of-the-century resort feeling. The cabins and cottages are tucked into hardwood forests surrounding the town, most with amenities that are far from "roughing it."

All of Eureka's lodging properties are designed to pamper the traveler in peaceful relaxation.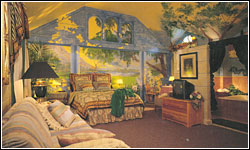 Serene Shopping
There is no shortage of treasure hunting here. With so many art galleries and studios, several times a year they become the focus of special events. From oil paintings to pottery to stained glass art work, and all other mediums, you will undoubtedly discover that special piece of art in Eureka. And with the area's creative inspiration, most of the artists live here year-round.
The finest in jewelry, leather goods, gourmet foods and coffees, woodworking, clothing, metaphysical supplies, and a host of specialty shops provide wonderment from around the corner and around the world.


And for the golden oldie enthusiast, we feature some of the finest antique shops anywhere. From fine one-of-a-kind pieces to "needs a little work" art, there are scores of stores prepared to assist you in procuring that must-have article.

Divine Dining
There are wonderful dining choices in Eureka and you will want to eat out often during your stay. For a town its size, you will find selecting a restaurant to be a cultural expedition.

From quaint cafes to culinary extravaganzas, thanks to the number of world renowned chefs who have chosen Eureka Springs as their home, you are bound to be satisfied.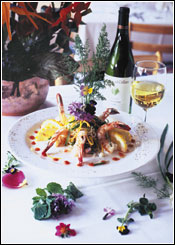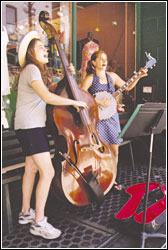 No Ordinary Show
Music and Eureka go hand in hand. Several of the restaurants also feature full bars with either quiet "conversation" music or full bands to dance the night away. And there are a number of clubs and bars where the gay and lesbians crowd gather in comfort, depending on your musical preference.

Seasonal celebrations throughout the year feature "Diversity Weekends," plus large upscale festivals bringing the best in Blues, Jazz, Folk, theater and Opera to the area.

The great Passion Play, with a cast of hundreds, nightly from April through October, provides an evening of inspiration at the outdoor amphitheater seating over 4,000, attracting people from all over the world to what has been described as "the world's largest outdoor drama."


Spas & Services
Those looking to replenish the body, mind and spirit will find a home in Eureka. The town offers excellent trained body workers providing the best in massage, reflexology, steam treatments, energetic healing and much more. Professionals of all schools can help you find the key to life enhancement, from conventional spiritual thought, to astrology, past-life regressions, channeling and psychic readings.

And Eureka Springs is home to an active MCC church serving the spiritual needs of gay and lesbian Christians.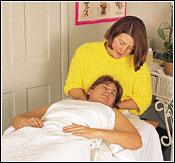 The surrounding area literally explodes with activities to enhance your vacation. It would take weeks to explore the caves, hike or bike the nature trails, visit historic sights or photograph the scenic wonders.

As a place that prides itself as a "diamond of diversity" and welcomes all who choose to visit, Eureka Springs extends open arms in hope that all who arrive will be renewed and refreshed. This is why so many who find their way here feel as though they've come home.

View Alternative Resources for a listing of Family-Friendly businesses.